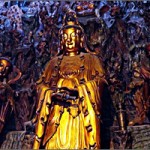 Long Long Ago …. Ooops no Two week ago i was enjoying my Friday night with fully packed for late morning on weekend. Tring… Tring.. My friend called and told me that she is going to visit her sister in Hangzhou and asked me to join. I have already heard about Hangzhou,Zhejiang China a lot and recently it was in news due to train accident. So i told her that i will join. Obviously my late dreams are shattered by now but I Love China beauty.. Next she told that we need to reach Hangqiao Railway Station by 7:30AM (Long dream now i will not get normal dream also 🙁  ).
Do See below some of the restricted pictures that you will definitely admire… 🙂
How to Reach Hangzhou 😕
I started early at 6:45 AM for Hangqiao railway station as it is at 45 min by subway Line 2.Hangqiao Railway Station is second last station at Line 2.As it was a sudden plan so we need to stand in line to ticket at ticket counter. My friend was not sure if we will get ticket as it is weekend.We got expensive ticket of 80 RMB to hangzhou. It took 1 hr for us to reach there. I had a nice nap in train.Thanks to China High Speed railways 😀
About Hangzhou:
Now some history, it act like sizzling on trip 😉 Hangzhou formerly known as Hangchow. Capital and Largest city of Zhejiang province. Located in Eastern China is famous for its beautiful lake and old town.
How many days needed for trip to Hangzhou:
If you are planning trip to Hangzhou plan for two days for travel in minimum. I missed lot of places because i stayed there for one day..Travel Map of Hangzhou
 Major Sight Seeing:
West lake – Most popular. In fact all other sight seeing are mostly all around this lake.
Solitary Hill
Six Harmonies Pagoda
Ling Yin temple
Let Go Wroomm.. Wroom.. Oops i am in a Train 😉
We reached Hangzhou by 10:15 AM. My friend was very happy as she told me she did her graduation from the city and it is like her home town.We come out of station and move to bus stop which is just on the ends of entrance of station. Bus Number : K818. Then we get down at station:胜利剧院(Shenglijuyuan). We went to a shopping mall 龙翔服饰城(LongXiang shopping center). She told me that she used to buy lot of clothes from that mall. I found clothes much cheaper than Shanghai. We bought some(many) clothes. Then we stared our walk to West lake. It was at walkable distance from there. But if you dont want to have shopping you may take K7 from station and get down at station 一公园(Yigongyuan) just in front of West lake.
As expected the lake was beautiful with chinese ethinic big cruise and boat moving. I was hardly able to see the other end. It was that big and well maintained.The street across the lake was full of trees which makes it beautiful even in glowing sunny day. There is a famous story about this lake. My friend describe me whole story while we were walking along with lake.
Story of a Madam White Snake
Its a romantic story of a Madam White Snake and a scholar. The White Snake have the power to turn to a beautiful lady name Bai Suzhen 白素贞. The scholar name was Xuxuan 许仙. The story stared when the boy saved the Snake from some hunters. Suzhen fall in love with that boy. She turned to women and want to meet boy.  A monk called FaHai (法海) intervenes in order to save the scholar and locks the white snake in the LeiFeng Pagoda. After many years when Suzhen escape from the Pagoda she again went to meet Xuxuan. It is said they meet on the bridge.
It was time to lunch by then so we moved to a restaurant to have our lunch.蜜汁糯米藕(MiZhi Nuomi ou) is Hangzhou famous dish. It is sweet Lotus root stuff with rice.
After lunch we again started around lake. for boating we have three choices- Cruise , Small boat rode by driver or if you are sufficient people u can take boat on ur own to ride across lake. We opt for small boat . Shocking even small boat treat you with nice decor in it.As we were moving fart from shore the calmness of silence with moving water can be heard.
It was a bright sunny day but by the time we reached in the middle of lake ,boat driver told us that within 10 min heavy wind are coming. I thought that he is making excuses for not going more deep inside lake. And he started riding boat to shore.To my surprise within 10 minute the wind stared blowing heavily and all small boat shed flew away. Because of intelligence of driver we had almost reached shore.
Water show
It is an attraction at West lake.You can easily identify the place by this picture.
Timing 3:30 PM and 4:00 PM .  Duration :10 min
Its time to start back but we can easily spend two days if want to see all places.We took bus K7  to Station. Though i missed other places let me show you picture of those places.
Scenic area of Lingyin
Special thanks to our beautiful friends for beautiful pictures.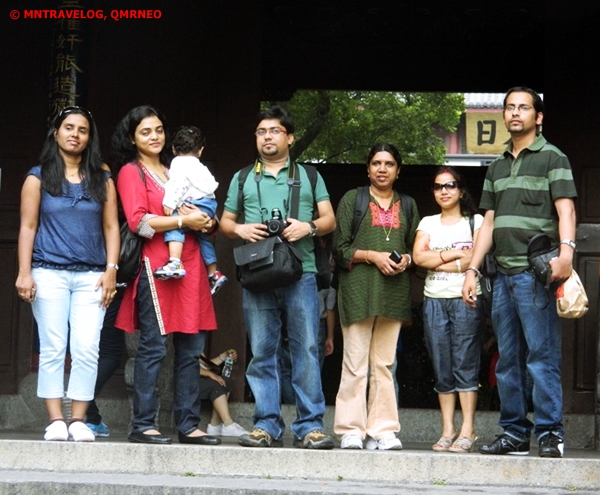 Hope your enjoyed the story and the pictures of West lake, Solitary Hill, Six Harmonies Pagoda, Ling Yin temple. See you soon with a new trip…..:)