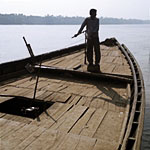 Navadvip (also Navadwip, Navadvipa or Nabadwipdham) is a city in Nadia district, West Bengal, India near to Kolkata. Its name means "9 islands" in the Bengali language. The islands are Antardwip , Simantadwip, Rudradwip, Madhyadwip, Godrumdwip, Ritudwip, Jahnudwip, Modadrumdwip, and Koladwip. The islands are centered on Antardvipa (Sri Mayapur). We traveled the way across exploring navadvip nadia in ferry which was a crowded experience yet joyful.
Today Navadvip is known as the birth place of Sri Chaitanya Mahaprabhu. Festivals like Sri Nabadwip-mandala Parikrama , Dol jatra, Rash purnima Gaura Purnima are some main attractions for this place.
We started in the morning from Sri Mayapur for Navadvip. Everyone was charged but we need to checkout the rooms. So got our luggage and moved to main temple again. We decided to start for Navadvip after having snacks from the Govinda's pizzeria inside Sri Mayapur. Food was good and affordable ( All Vegetarian only 🙂 ).
After all the energy boost we came to the Sri Mayapur Chandrodaya mandir gate to catch the local bus to the hular ghat. From here we got the ferry to the Navadvip ghat. It took us 10 minutes to reach the ghat and was very economical though crowded.
You can easily see what i was saying earlier about 'crowded experience'. The Navadvip ghat It is located at the convergence of Ganga (Bhagirathi) and Jalangi rivers on the west bank of the Bhagirathi river.
And now the special one the two river meeting point was a one of the kind shoot. You can easily differentiate between the two holy rivers.
Finally we reached the other end, Navadvip Ghat to see the various artifacts for the temples and local area. The ghat was already filled with overcrowded ferry for other ghats.
We took Rickshaw to visit temples in Navadvip. Total of 10 heads and all the rickshaw walas running around us to keep the charge. As usual the bargain game and price settled. We visited 12 small temples near the Navadvip main road.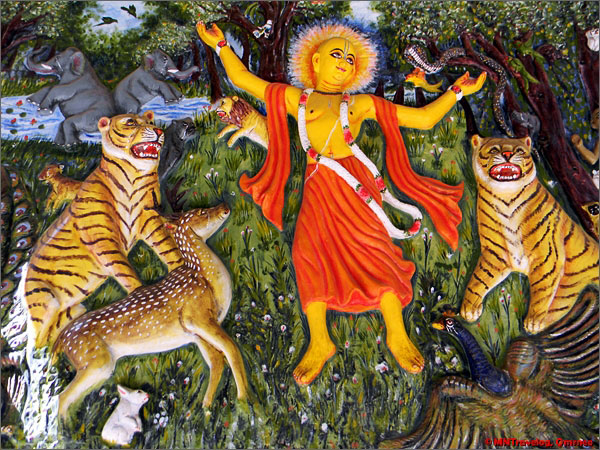 We visited some of the other temples as Krishna Balram temple which is said to be 300 years old and finally returned to the ferry ghat for return. It was a hectic time as we were rushing the temple quickly and in the narrow lanes. Of course a group snap is must, so here you go…
All were thinking about the return bus to Kolkata from Mayapur. So we started back from the hular ghat in local bus to the Sri Mayapur temple to catch the return bus. No doubt it was a great joy to visit such place with friends and family.
Not to be left, a new temple is in progress in Sri Mayapur, which is a huge one and will be the next surprise in Mayapur dham. To conclude lets have the holy chant once again…
"Hare Krishna, Hare Krishna,
Krishna Krishna, Hare Hare,
Hare Rama, Hare Rama,
Rama Rama, Hare Hare"