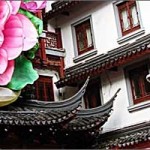 It's January the month of Hope, Wishes, enthusiasm and Power. As in our last post January is consider a month of new start and prayer in India with festival like Lohri, Pongal , Makar Sankranti and Onam . But the magic of this month is not only with India, It comes with much more importance to China. They celebrate their Biggest and Longest festival of Chinese Dragon New Year 'Spring Festival'.
Chinese Dragon New Year:
It is the most Important, Traditional and Longest festival being celebrated in Chinese culture. The Day is celebrated as it is the First day of Lunar Calendar. The First Day of the Lunar Calendar or The New Year First Day in Chinese named as 春節 (Pinyin: Chūn Jié). Which means Spring Festival and hence in China the New Year is popularly known as "SPRING FESTIVAL". The Importance of the festival comes with its centuries old its history and gaining its importance among people due to it various myth and traditions.
After living in China for one year I can feel that even though china is not much cultured with its own traditional ways and has adapted to more of westernization but still Chinese Dragon New Year comes with big importance to all of them. It is the time of family reunion and time to spend time with our family and enjoy the festival. The festival is celebrated for the 15 days. These fifteen days start from first day of the first month Chinese: 正月; pinyin: Zhēng Yuè and it leaves with the Lantern festival which is on the 15th day. Before the New Year First Day the previous eve is celebrated with great celebration. It is very important for the entire family member to stay to reach back home and have their family Dinner.
Chinese Dragon New Year Preparation:
It is quite obvious that as the festival hold so much importance, it preparation will also be done with great time, dedication and definitely money 😉 People start shopping for Chinese Dragon New Year with New Clothes, food items, new decorative items and lot of present for kids, friends and relatives. Homes are cleaned and decorated so as to welcome the Chinese Dragon New Year as it is commonly believed that Good Luck and Wealth and Health comes to Clean steps . "Good Wishes" "Blessing" and "Good Luck" is being written with Yellow / Black ink on Red Paper. An interesting way of hanging these is Wish Paper is they are hung Upside down as it signifies that the Good Luck is being delivered to your home. Quite interesting hmmmm. People exchange gifts. In WSJ we read the article saying that Year of Dragon gives new life to Gold in China. As people are getting rich in China the exchange of Gold as gift is getting fancier now days.
It is almost mandatory we can say that everyone should reach their home town on Chinese Dragon New Year eve to have Dragon New Year dinner. Believe me it is really touch to get ticket to home town. Reason is quite obvious. After having dinner all family members watch special shows which are hosted on television in different channel like CCTV New year gala. We think that the actual mean of staying together chatting, watching movies, and having fun.
The color and ethos of festival equally reflect in all streets, shops and shopping complex. Carrefour which is one of the hyper centers is fully colored, stocked, packed with people and tricky offers.
Chinese Dragon New Year day:
春節 (Pinyin: Chūn Jié) the first day of the New Year. People get dressed up and give greeting of Good Luck, Good Health to each other. Kids take blessing from their elders for good and healthy life. In return Elders give Yasuiqian to kids. It is money in red bag/envelop. Chinese Dragon New Year Money signifies as Best wishes and Good Health. It actually gives more attraction for kids to wait for New Year. Actually, "sui" in yasuiqian has a homonym which means evil spirit. Yasuiqian is to get rid of this evil spirit and bad luck. So elder give some money to bring good luck to their kiddos. In fact, in olden times people give symbolic gifts rather than giving money. After that the day proceeds with delicious Lunch. A special kind of Dumpling is being prepared for the Lunch. For Next two days people meet their relatives and friend and have lunch /dinner together. At the time of supper they narrate poems, rhythmic lines and sing together. Lot of Crackers and firework will be done on the day. According to tradition people make a wish while holding lighting in hand.
The Long festival actually gives people lot of time to visit their family and friend and spend time with each other.
Fifth Day / Po Wu (破五):
Though all the Fifteen days of the festival symbolizes something but the Chinese Dragon New Year festival is celebrated on first three days. After three days of greeting and meet the fifth Day of the New Year is considered as the New Year for Chinese business. It is the day of God of Money. They shoot off firecrackers in the attempt to get Guan Yu's attention, thus ensuring his favor and good fortune for the Chinese Dragon New Year. On this day people eat eat jiǎo zi (simplified Chinese: 饺子; traditional Chinese: 餃子), or dumplings on the morning of Po Wu (破五).
Fifteenth day:
Yuan Xiao Festival or commonly known as Lantern Festival is celebrated as fifteenth Night of the Chinese Dragon New Year. It is the night of Full Moon. People celebrate the festival by decorating open areas and community center, parks with big Paper and colorful lamps. They walk on streets with big Lantern.
From Wiki with Interesting tradition : In Malaysia and Singapore, this day is celebrated by individuals seeking for a love partner, a different version of Valentine's Day. Normally, single women would write their contact number on mandarin oranges and throw it in a river or a lake while single men would collect them and eat the oranges. The taste is an indication of their possible love: sweet represents a good fate while sour represents a bad fate.
Along with this there is a custom of Riddles (Puzzles) . People write Chinese riddles/Puzzle on the lantern and who so ever will solve it will sometime get gifts or Good Luck money. In Shanghai if you go to Yu Garden it is fully decorated with Lantern.
This is all the we have for the Chinese Dragon New Year for you. Along with thousands of people in China we also wished for better life and great future.