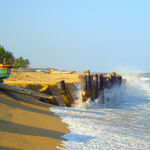 Puducherry (formerly Pondicherry), which means "New village" in the Tamil language is a Union Territory of India. Puducherry has been described by National geographic as "a glowing highlight of subcontinental sojourn". Puducherry has four main beaches which are very popular with tourists and locals alike. They are Promenade beach, Paradise beach, Serinity beach and Auroville beach. We were to visit the Auroville.
Our this trip was kind to "Let's go" :). We just packed our bags and started from T-Nagar Bus Stand, Chennai at 6:00 AM. It took us approx 6 Hr to reach Pondicherry. We just wanted to enjoy the travel in local bus to the destinations. Initially we struggled to get the bus, bus after half an hour we got one and we started our journey. To reduce your journey to half, take a bus to Pondicherry which will go via ECR route. This is the shortest route to Pondicherry. It will take 3-4 Hr time reach.
Now some gyaan time…
Auroville
Auroville (City of Dawn) is an "experimental" township in Viluppuram district in the state of Tamil Nadu, India, near Puducherry in South India. It was founded in 1968 by Mirra Alfassa (since her definitive settling in India called "The Mother") and designed by architect Roger Anger. Auroville is meant to be a universal town where men and women of all countries are able to live in peace and progressive harmony, above all creeds, all politics and all nationalities. The purpose of Auroville is to realize human unity. For more details check Auroville website.
We reached Auro beach in the afternoon, with no guide to location. We found so many foreigners at the place, so we asked them about the place and soon we came to know where to head to. Even you can hire a bike (Pulsar, hero puch, splendor etc) to visit the location. You have to submit a photo identity proof to the shop keeper ( passport, license etc) and some amount.
We took a rickshaw to reach the Ville. You can also share with some more fellow passenger if you can arrange. Place was very calm and sunny at that time. Initially we thought it to be like just another place, but soon we realized that we are entering in a whole new civilization.
The Place is a complete city in itself and full of beauty. You can see people from all over the world roaming around. Initially we had no idea about the place, but as we reached the main location of the place we came to know that it gonna be a wonderful experience.
We entered the Visitors Centre Complex and came to know all about the place through a half an hour presentation. The Exhibition Hall and Video Room is the location where you should head first. And then we are free to move in any direction in the city.
We then headed towards the heart of the City. The Mantrimandir, a place for silent concentration. You need free passes from the Auroville's Visitors' Centre, after watching a short introductory video on the Matrimandir. Way to the Matrimandir Viewing Point, is a shaded footpath, about 1km long from the Visitors' Centre to the Viewing Point. An electric shuttle service is available for those who may find it difficult to walk the approx. You can just imagine the beauty of the place by snaps.
You will find many applications of renewable source of energy in day to day life in Auroville. Which impressed us a lot. Then we went to the Cafeteria having both indoor and outdoor sections. And to our surprise, it was wonderfully decorated and maintained with really good organic and nutritious food. Also you can shop various Auroville made goods in the boutiques near the cafeteria.
We then tried to visit the Paradise Beach. We also reached the starting point but it was late. So we just came back with some snaps.
After that it become very tiring and we returned to the Auro Beach and searched for a resort to stay. We walk across the beach to search one. And saw the Soorya Beach Resort. We simply booked it. Food was not that good but location was fine for us. We we spent the rest of the evening in and across the resort.
It was amazing experience to gaze the stars on the beach in the night lying close to love and eating the corn. Cool breeze and ocean music and overwhelming moon light was just a unforgettable night.
We then returned to resort and took rest. In the morning we were ready to return back to Chennai and again we took the local bus service. Luckily we got seats in the bus. On our return we went to see the Marina Beach (Asia's largest Beach), having a distance of 14 km, making it the longest urban beach in the country.
And this is the way we lived some beautiful time with the beaches in the south India. Stay tuned for our upcoming trips. 🙂