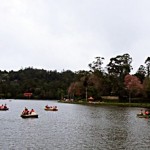 The day of site seeing and fun. We woke up early( Mosque prayers) also the 9:30AM was the bus. Water was really chilled (6AM-10AM hot water). Breakfast was complimentary. We have got the travel agent at the door step in the morning, SKM tours and travels. I guess they have tie up with hotel. They were having 4 tour plans :
1. Kodai Fullday Sight seeing Rs 150 per person
2. Forest Tour Rs 250 per person
3. Picnic Tour Rs 175 per person
4. VIP Forest Tour Rs 225 per person
In the morning they make Rs 300 per person for VIP Forest Tour + Kodai Fullday Sight seeing. So we agreed and started with the trip.
Coaker's walk, Upper lake view, Green valley view, golf course, pilar rocks, devil's kitchen(guna cave), four pillar rock, pine forest(cine shooting point), mahalakshmi temple(poombarai), gundar walking water falls, palani view, poombarai village view, mannavanur lake view, sheep farm, bryant park, lake or city drop.
We were dropped at lake. After that some walk around, enjoying time with each other and nice place. Purchased some kodai homemade chocolates. Returned hotel and took rest for the Madhurai return. Kodai has more area to roam than Munnar town. And more places to hang around 🙂 .
Some more snaps to enjoy………
---
---
---