We started our journey to Beijing from Shanghai. Beijing is a very big city and lot many places to visit. So if you want to roam in Beijing very interestingly then plan the trip for one week or more. We plan for three days as shortage of leaves from office. But we planned accordingly for rush hour trip and it was really cool.Before we start our journey let me share some of important bag pack notes. Which will help you to travel easily and know where exactly you are going. This will also save you from getting cheated.
Make a print out of Chinese English words for – Places of visit, Food items, common other words. Hotel address in both languages. Take map location print out and nearest subway/Bus station location. You may get these details from Google map and Chinese friends( always a good choice to take a local friend 🙂 )
Beijing is having a very good service of subways. And especially to all visiting places are very near to subways station. So transport is very convenient in Beijing. Apart from subway there are buses many buses also. It is suggested to buy Beijing travel card when u arrive at Beijing and fill it with some fifty Yuan. Transport is very cheap in Beijing. Subway 2 yuan from any station to other station ;). Buses just 0.2 Yuan
For Vegetarian: Take some food items with you. Learn how to pronounce "No Meat, No Egg , No Chicken" in Chinese. And add vegetarian items name In English and Chinese sheet.
Read about the histories about the places in Beijing, better take a print out. It will be very interesting to read.
Beware of taxi and Rickshaw in Beijing. You may get cheated. Take only real one. One way to identify real is there number plate start with "B", Light on Top and meter measuring.
Starting point: We took Metro from Jinke Road Subway, Shanghai to Hongqiao Railway Station Line 2, Shanghai. But suddenly at Songong subway every came out of train and we also came out. And we waited for another train. That was a complete surprise, why we came out and what was so distinct in other train that we get into. Any way our trip started.
You may travel to Beijing by Flight, Or by train. We have opted for D series train. Booked tickets for Friday night. Train starts at 9:30 PM and had reached to Beijing at 7:30AM.
Hotel:  We Booked "China Southern Sky Pearl Express Hotel"
Hotel Number: 010 65676688
Price: 380 Yuan +100 Yuan for extra bed. We booked the hotel on phone.
Note: This Hotel is at is very near to Guomao Subway just 3 min walk. So travel to other places become very convenient.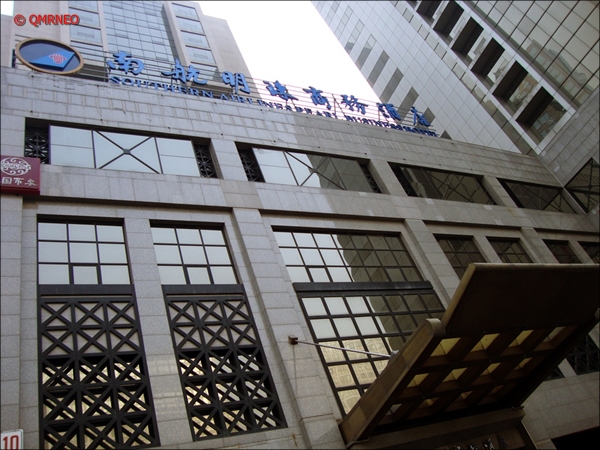 How to reach Hotel from Beijing South Station: Take Subway of Line 4 from Beijing South station and move till Xidan station. From Xidan change to line 1 and come to Guomao subway station. Take an exit from gate D. and come to East gate. Cross the Bridge and you can see Hotel Board on top (Take Hotel Name and address in Chinese). Also when you arrived first time can come to Hotel by taxi. It will cost around 30 Yuan.
Places we visited: Day 1
CAPITAL MUSEUM:
Capital Museum is a five storey building where all artistic , historical and Pure culture of China can be seen.
We reached Hotel by 8:30 AM. And stared by 11:00 AM.Took Subway from Guomao Line 1 to Fuzingmen at Line 1. Get out of Subway. You will come out from a big complex "PARKSON". We took some lunch at the food court of this complex. The food court is at 6 floor of this. That is my first chance to local Chinese food there. As we all were Chinese we went up with some of these food. See below: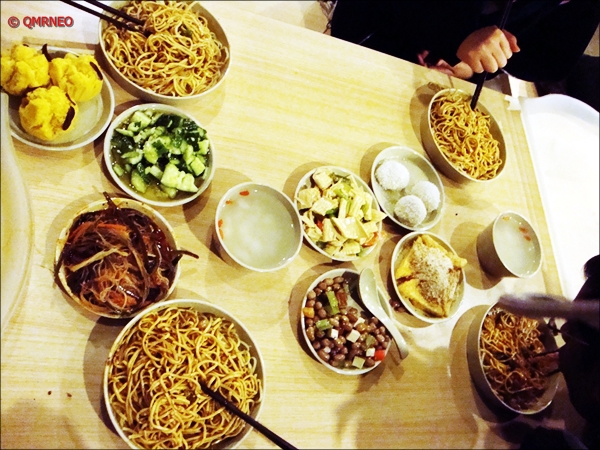 I don't remember the name of these foods. Then from there took bus number 1 and got down after two station. Confirm before getting down by showing Capital Museum In Chinese language or if you can communicate in Chinese 😉 😉 Get down then walk to museum.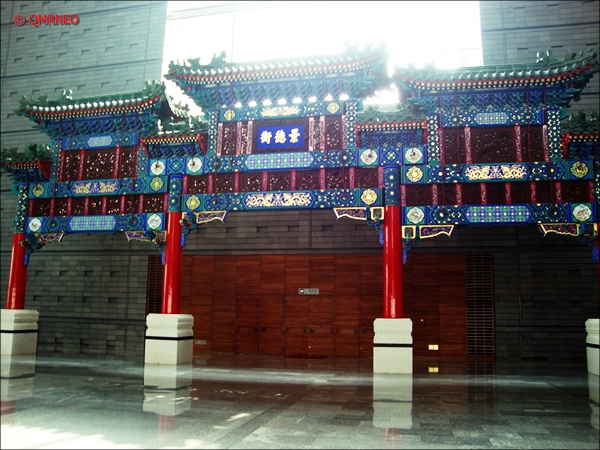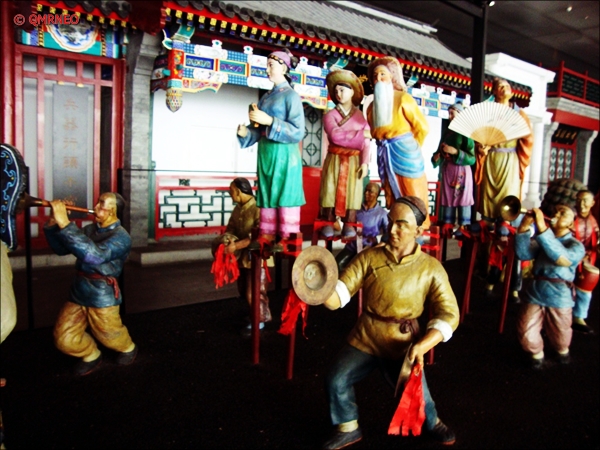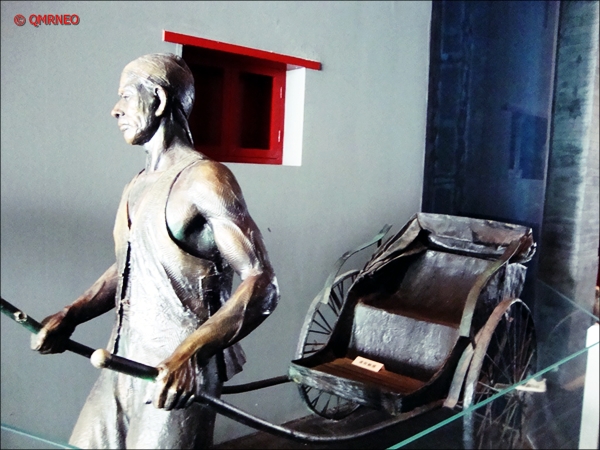 NOTE: Museum Ticket booking has to be done before hand for foreigners. That is free of cost.  So book it on previous Wednesday. Get all information from http://www.capitalmuseum.org.cn/en/02.htm. Number for telephone reservation: 63370491 63370492
SUMMER PALACE
Summer Place is the largest royal garden but smaller than Forbidden city. As the king don't want anything to be bigger than Forbiddden city. In Chinese it is named as 'Qinqyi Garden' which means Garden of Clear Ripples. It is also known for its famous 'three hills and five gardens' (Jade Spring Mountain ,Longevity Hill, and Fragrant Hill; Garden of Clear Ripples, Garden of Perfection and Brightness, , Garden of Everlasting Spring ,Garden of Tranquility and Brightness, and Garden of Tranquility and Pleasure). It got open for Public in 1911.
Mode to reach here: From Museum again back to Fuxingmen subway same by Bus no 1. If you would have taken Travel card it is very convenient while your travel. From Fuxingmen take Line 1 to Xidan (next station). Change Line at Xidan from Line 1 to Line 4 to station Beigongmen. From there just come out of station then at 5 min walk you will reach near to "North Palace Gate". You can also check the Summer palace map here.
Now, Let's GET SET GO for 4 hour ride to a beautiful palace.
Take ticket from entrance. Best is to take guide, it will be very interesting to roam at most beautiful Place with its historical stories. You may also take a Guide Map and Automatic guide near ticket counter itself. At the end of journey you can return it at other gate end.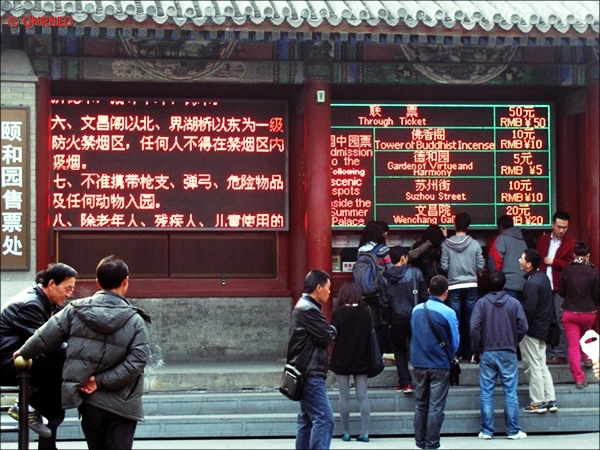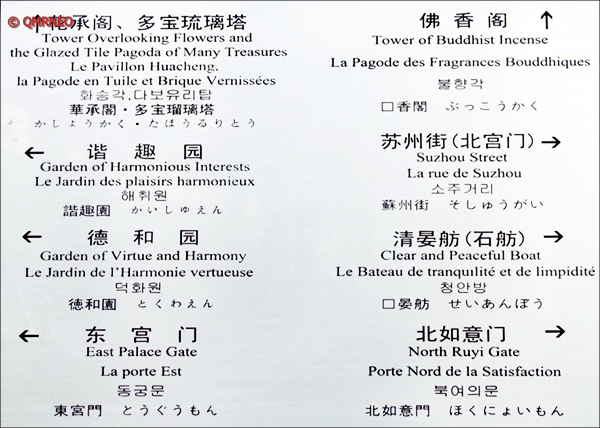 Some know how about the Summer Palace:
There are three Main Gates for entry in Summer Palace: New Palace Gate Route, East Palace Gate Route and North Palace Gate.
Your sequence of places in Summer Palace will depend which gate you will start at. From North Palace Gate -> Suzhou Street -> Marble Boat -> Longevity Hill -> Long Corridor ->  The former court area -> Ferry Landing -> South Lake Isle -> New Palace Gate.. You will also get East Palace Gate near 'the former court area'.
Opening Time -> 7:00 AM Closing Time -> officially 6:30 AM but you can sit around ferry Landing. And enjoy DSLR type nature shots. You will find professional Photographer taking some very nice pics. But professional photography needs permission.
Buy correct ticket at entrance. There are ticket varies with place of entrance. Being a tourist take full ticket. It is 30 Yuan.
Take refreshment but very light weighted. Because 'Lamba he rasta so Bojha (baggage) should bi kum'.
Now enjoy the snaps below:
We enjoyed whole of our Summer Palace . Its really very very amazing to roam there feeling like a queen , who sometime used to roam there. We came out of Summer Palace from "New Palace Gate". There is subway nearby but at night after so much of wandering you will not be in mood of moving to subway. Now two ways to reach subway :
Rickshaw, which will say 3 Yuan to subway. But BEWARE they later tell you that they charge per minute. Sounds very stupid.
Taxi standing at side of road. But they are not professional taxi. Being a tourist they will ask you some very wage figure of money. We had no option at that so we took taxi. But luckily with the help of some Chinese friend we got taxi in 30 Yuan to restaurant. But LUCKILY.
Better take subway dear.
Anyway we took our dinner in one Vegetarian Restaurant "Tianchumiaoxiang Vegetarian restaurant". Its near "Wudeokou' Subway Line 13. That was my first exposure to Vegetarian Chinese restaurant and Really it was amazing to have dinner there. Anyway after that we reached changed to Line 1 from next station "Zhinchuniu" in Line 13 . And then straight to "Guomao". After such a tiring day we found it really blessing to have hotel so near to subway.
But a rocking day had past with another Rocking day coming ahead. Moving to GREAT WALL OF CHINA. One of the 8 wonders of world. Click below link for a wonder… 🙂
---
Day 2 : Exploring ChangLing Ming Tomb and Jade factory
---