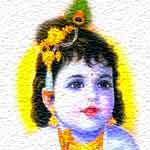 Krishna Janmashtami (कृष्ण जन्माष्टमी), is a Hindu festival celebrating the birth of Lord Krishna, an Avatar of the Lord Vishnu. Krishna Janmashtami is observed on the Ashtami tithi. In Mumbai and Pune the festival is known as Dahi Handi and celebrated with enormous zeal and enthusiasm.
Shri krishna is one of the most followed hindu god. The life (lila) of shri Krishna is told again during this festival. He is also know as the master of 14 kalaas (expertise), whereas Shri Rama has 12. His great words are all mentioned in the holy book of 'Gita'.

So we woke up to celebrate the birthday of lord krishna with joy. And started to roam around the area to view the beautifully decorated krishna. Below are the snaps we took while visiting various pandaals.
"Jai Shri Krishna"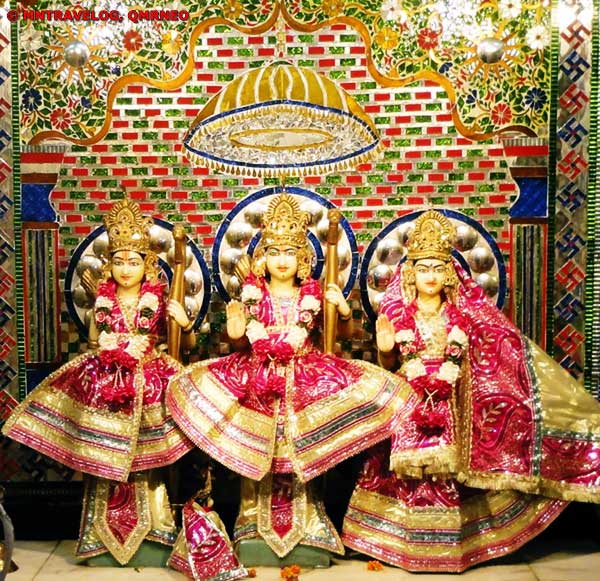 We can also see some pandaals for the Lord Rama, Sita and brother Lakshman decorated. And took a snap of them.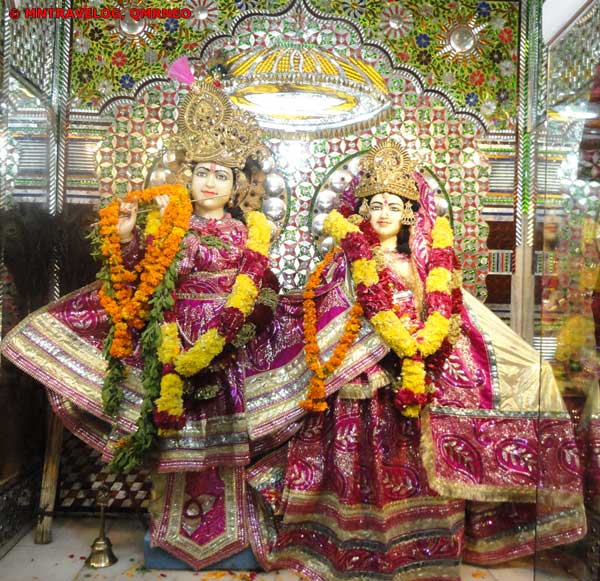 Shri Krishna with Rukmani looking so beautiful.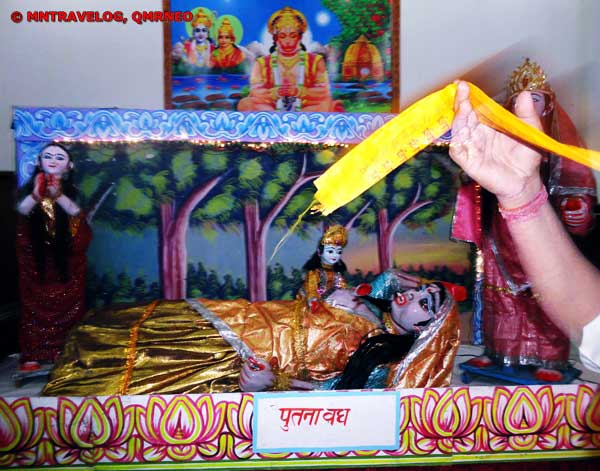 Shri Krishna shown as killing the devil Putna. He was very young when lord killed the devil and let free the village from the troubles.
The story goes as follows:
Putna was demon send by King Kansa to kill Devki's eight son i.e. Lord Krishna. Putna looked so ugly. When she went to Gokul she morphed herself into a beautiful lady. She went to Yashoda's house and told her that, " Krishna is so adorable, let me feed her my milk which is booned as amrit (immortality). So Yashoda became so happy and gave her son to Putna.
But our lord Krishna knows everything :). As soon as she started feeding the Nand Lala (Krishna's nick name), putna started to feel severe pain. Soon after she came into her original demon appearance. Putna ran out of village and villagers ran after her with panic. But as they reach out of the village they found demon lying dead and our loving Krishna was sitting on her. Everyone was relieved and they sang and danced to celebrate the occasion.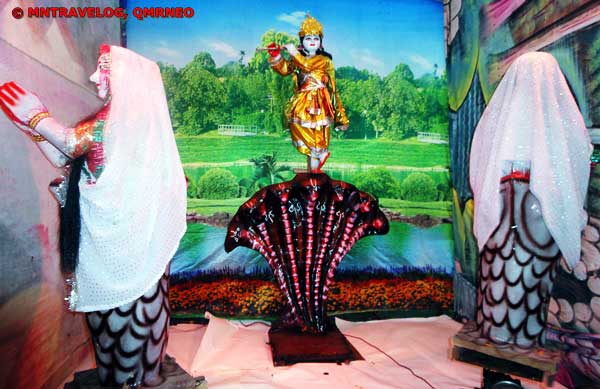 Shri Krishna on the snake Kaliya head.
Kaliya (कालिया) was a poisonous naga living in the Yamuna River, in Vrindavan. Once Krishna was playing ball with herdboys near the river, he climed up the Kadamba tree and hung over the river bank. The ball fell into the river and Krishna jumped after it. Kaliya with many hoods vomiting poison and wrapped himself around Krishna's body. Seeing this Krishna became so huge that kaliya had to release him. And then by seeing this Brij folk became afraid of the snake. So Krishna sprand on the naga head and assumed the weight of the whole universe, and danced on the naga's head, beating him again and again. Naga started to die, suddenly the naga's wives came up to ptay for their husband.
Kaliya recognized the greatness of lord Krishna and surrendered, promising he will never harass anu villagers again. And Krishna pardoned him and let him leave to some other river.
Such a greatness of our lord Krishna, his each and every life story was a great lesson and motivation for each once of us.
Everyone was so excited and enjoyed the rest of the pandaals visit very much. The roads were full of people. Kids were all enjoying and running to the road side shops for toys and sweets. And parents were pulling them :). Really a great time.
Once again MNTravelog wishes our reader a Happy Shri Krishna Janmashtami 2011.