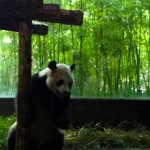 You know what is one of the major attraction of China. Great Wall, Beijing, Shanghai.. Let me give you more hints. It is something with White and Black in colour. 😆 PANDA 😆 So this time its time to see Panda.The first option is Shanghai Zoo.But we read that the Panda there is in glass room and not very good. My friends doen't advised me there to see. The Second option is 'Shanghai Wild Animal park' which is awesome.One of the Shanghai Attractions. So we decided to go to it. I can categorize this trip as "Shanghai Day Trip". But before the real story, some quick sneak peek 🙂
About Shanghai Wild Animal Park
This is the first Wild animal park in Shanghai by Shanghai Municipal and State Forestry. It is located in XuanQiaoTown of Nanhui District in Pudong New Area. Area wise covering 153 hecture land.Defineltely a huge money must be invested in order build and run it.In short known as SWAP[ Shanghai Wild Animal park] 🙂 Most variety of representative and Rare Animal can be seen here.
How to reach Shanghai Wild Animal Park
Route One:
Reach Zhangziang High Technology park on Line 2.Take Bus 上海张南专线 from Zhangziang High Technology park Bus Station.You will find many Taxi driver with Panda Broucher. But prefer bus.Buses are at frequency of every 10 minute. Bus Ticket fare is 5 Yuan.And the destination stop is 'Shanghai Wild Animal Park' in english and same in chinese written as 上海野生动物园. It will take 40-45 minute from bus station.
Route Two:
Nanxin Bus Line: First Bus at 5:30 and last bus at 23:00 with bus every 10 minute.Bus stops: Shanghai South Railway Station(at the Southwest Exit), Nanpu Bridge, Beicai, Zhoupu, Liuzao, Wild Animal Park.
Route Third:
Bus Stops: Dongchang Road, Beicai, Zhoupu, Hangtou, Xinchang, Xuejia Vilage (where to transfer to Nanxin Bus Line for Wild Animal Park.
Ticket fare and Timing of Shanghai Wild Animal Park
Adult : 130 Yuan
Kid below 1.3 meter: 70 Yuan
Timing: March – November 8:00 – 17:00
December- February 8:30 – 16:30
Lets Start: Wroommm….
We start early from Hotel.Reached park at around 10:30AM. Took Ticket from gate. No doubt bit impressive at entrance as it will the only big gate you will see at the location.We were accompanied by our friends. Along with Ticket we got a Map of Shanghai Wild Animal Park. The Park is divided in two parts: Walking area and Bus Journey. Along with that we have two animal shows. They have specific timing so you need to plan your route accordingly.
First Show: Large Square Performing Arts
Timing: 1:00 at Arena mountain beasts
Second Show: The Sea Lion Show
Timing: 10:00 , 15:15 at Sea Lion Arena
(Note: There are two more shows but they are occasional)
So obviously we missed the sea lion First show so now we need to come at 15:15.This arena is very near to exit. So we planned to see it at end. We started on the pedestrian area. Welcomed with big water pond with Flamingo. The weather was sunny but enough of trees are there so kids were enjoying a lot there. Lets check out the click there (Picture of Wild Animal Park).
Animal Kinder-garden
Kid were more attracted towards the two section Zoo. One was "Animal Kinder-garden" and other was "New Born Babies".
Panda View
Till now we have seen a lot of animal now the search for Panda started. In map it shows two location for Panda. But after lot of walk when we reached one location it says 'Panda House under construction' so all Panda moved to the second location.We actually starved to see Panda at that point. So we started our direction to the second location of Panda.It was already 14:00 when we reach to Panda.There are ten Panda there in Zoo(All were sleeping when we reach 😥 after lunch). They all have names also :-D. Panda there is kept in most attention. Beautiful room, High quality food and guard all round to watch.As Panda is heritage of China and have a danger of Extinction so management has taken full care of this attractive and Famous species. Obviously Panda become most famous after "Kumfu Panda" has been released.No Doubt seeing Panda was a great experience.I was about stuck there seeing Panda but my friends pulled me from there.Ohh my Cuttu Cuttu Panda…
Bus Visiting Area
After Panda we moved towards Bus visiting Area. And first time i saw all Royal family moving around in open area and me being in Bus.feeling was amazing.There were five section
White Tiger
Oops no picture as White Tiger was not out in Sun. May be White Tiger was too possessive about its complexion 😉
We finished our full trip by 4:00 PM and no need to say was very tiring but very exiting. It was a nice experience at Shanghai Wild Animal Park, standing next to tiger, Panda, Water Show, Sanctuary and many more.
Keep watching space for our up-coming excitement for Hangzhou trip…