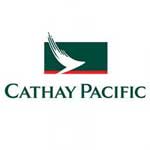 Hong Kong no doubt is the exciting place specially in case of shopping. Now when shopping comes honestly feminine group are first to ride. So 'N' also did some shopping of duty free cosmetics and electronics from Hong Kong Airport.
Our overall experience with Cathay Pacific is good except they don't allow more luggage as compared to other international flights.
10:35 PM : Boarded to our flight to Chennai by Cathay Pacific. This is an International Flight so was stuffed with more International etiquette.
The leg space was good and spacious so you can easily relax and stretch. Also you can enjoy the multiple language audio/ video entertainment including the facility for on air shopping. The attendants were very polite and 🙂
We reached the Chennai Airport at 1:45 AM IST. Flight duration 5:30 hr approx. We reached our country and now was waiting for my next flight to my home town which was after two days.
Our Reviews for Cathy Pacific Airlines:-
| | |
| --- | --- |
| Flight Type: | International |
| Class: | Economy |
| Cost: | 400$ one way |
| Luggage limit: | 20 Kg Check-in and 7 Kg hand* |
| Food/ Quality: | Good |
| Seats/ leg space: | Good/ spacious |
| In-flight entertainment: | audio/video entertainment in multiple languages, on air shopping |
| Duration: | 5:30 Hrs |
| Fee of booking via card: | Yes in case for international card, Liable with your bank |
| Option of choosing seat: | Yes (Available online) |
* Cabin : Cathay Pacific cabin baggage information
Check-in : Cathay Pacific Check-in baggage information
Finally feet on the homeland give a great joy and feeling to meet the parents and friends asap. No doubt we will miss our great friends from Shanghai. See you soon….
Are you a frequent flyer type? Tell us about some of your favorite (or least-favorite) experiences.