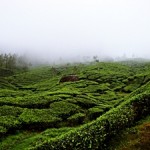 Our trip to Munnar was a very hectic but a amazing trip. We tried to visit as much as we can but also managed to find some peace time together :). So here are some lines that feels specials. "Explore every step, walk all roads. Hug her close, let's nature shore you". Our trip start point was Chennai and we moved from Madurai to Munnar by a local bus. It was a great nature experience until she started feeling that from the rock and roll ride. I tried and hugged her tight as to make her feel relaxed but all in vain. Even she took the medicine but of no use. Well lets say all her have this :P.
Oh ! Forgot to mention we have enjoyed the ride of airplane, train, bus, auto, indica and boat till the end of our trip and the pics clicked are 1000 approx ©. Of course won't be sharing all the amazing pics by me but will definitely give a peek preview :). This is the first picture clicked from the cam. I found it like Lord Shiva is on the earth.
This trip was really the great one after quite a long time. Never traveled in clouds (except when we are in airplane) for such a long time, with clouds are just passing by us and we can feel them entering in our bus. Even our bus welcome them and sparkled light and glitters all over them. The amazing view of mountains above clouds and I guess 63 turns to Munnar which was really rock and roll ride. Really each moment was completely breathtaking and we enjoyed every bit of it.
Ok, now some details of the trip for you. If you are planning a trip to Munnar Umbrella, jacket, warm clothes, lemon+salt (for her), digital camera is must…. Not all the digital camera will work a nice 5+ mega-pixel will make your click look alive.
We booked Volvo A/C on redbus from Chennai to Madurai @ 1200 for 9:00PM (which started at 10:30PM). That was actually a hell as we reached 2 hours late to Madurai i.e. at around 7:30 AM next morning.
---
---