---
Our journey to east India from 25th Jan 2011 – 30th Jan 2011.
Lolegaon, WB : Day 1
Lava, WB : Day 2.
Reshyap, WB : Day 3
Kalimpong, WB : Day 4
Kalimpong, WB : Day 4 continues
---
We woke up late in the morning and rushed to get ready for the day. We again took th breakfast at the C's and then walked to the Macfarlane Memorial Church. Which was estd. in 1891. It is situated uphill and easy viewable from almost all the places in kalimpong. As we were winding our wonderful trip so we gave a quick visit to the market place for some fruits and stuff.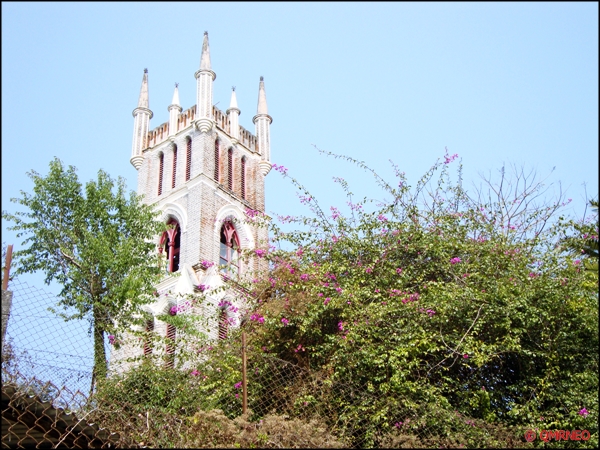 Macfarlane memorial church, kalimpong
We also enquired about any direct transport to NJP. And got some information from locals that one bus is thr, we don't know the exact name of the office. But you can see the location below as orange box.
Then we packed our bags and started by journey to Siliguri by shared cab (which moves quite often to these place). On the way we saw the beautiful Testa river and took some snaps.
On the way we saw many landslides repairing going on and a very big dam in construction on the river. Then all the way was the river and we slept. When we cab stopped we were at siliguri in front of the Stupa.
and finally we stopped taking the pics and reached in one mall in the  siliguri , COSMOS. Siliguri we found like a second kolkata. Nice stuff roaming 😀 around and we did some shopping and then we moved to NJP by auto. From where we waited for 8:00PM Darjeeling Exp. when it came we found our boogie were missing and hence one our delay. Thats ok, It happens only in India. But east or west India is the best :).
Whole of our East Himalayan Trip was a mix our up and down. Some points were closed and some were all calm to enjoy each other. But our dream to visit these places came true and we thank god that it executed very nicely. Now the situation in these places are really horrible and we doubt when it can get back to normal. Hope for the best and leave the rest. Enjoy !!! :D.