Start point : Sealdah, WB.
Nature Day's : 25th Jan 2011 – 30th Jan 2011.
Visit's point : NJP > Lolegaon > Lava > Rishab > Kalimpong > Siliguri > NJP.
Stayed In : WBFDC, Neora Valley, Gompu's.
Photo clicked : 800 Approx ©
Another lovely trip of our life. We knew that we have wings of Adventure in us and now we are feeling like moving in that wind. It feel as if we are living our dream. Let us share with you our trip we lived.
Before we share anything, let we introduce you to the key important things for the trip. 
Packaging guide for the trip (January)
1. Keep your luggage as compact as possible. Always a good thing while on trip 🙂
2. Woolen fully packed in winters includes muffler, scarf, Gloves, Socks , Thermo cot, jackets, umbrella, lemon+salt(if required), small water heater, dry fruits and digital camera is must.
3. One pair of Slippers (These places are really chilled like ice and it's a nightmare to move to washroom barefoot).
4. Wet Tissues (No need of bath just wipe ur face and enjoy or else get a chill pill water bath)
Cottage booking guide
1. WBFDC is the best place to stay in Lolegaon/Lava.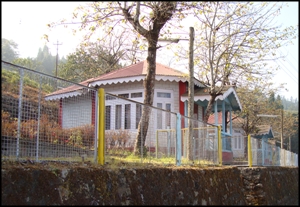 There cottages has the amazing view for K2 range. Book your cottage in advance from their offices in Kolkata @ 6A, Raja Subodh Mullick Square 7th Floor, Kolkata -700013.PH: 033-22370060/61.
Check out  WBFDC website to see the room availability at resorts and click "Click Here for more information on Our Nature Resort" link. Try to grab them but need to book in advance of 2-3 months for 0n Seasons. Otherwise in 1 month advance.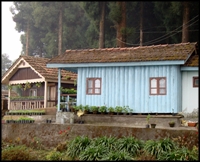 2. If you resides in salt lake area then there is one office in BD market (033)-23341756. Which opens at around 10:00 AM. But the officers comes at 11:30 AM. While booking they will provide a nice colorful route map of these area. The guy was drunk when we were booking the Lolegaon one :).
3. You have to order the breakfast/lunch/dinner in advance,  when you reach the NJP in WBFDC. Canteen no. 9933408270/9933024209. Make sure you book as early as possible with your preferences.
4. For Neora Valley Resort booking is a tricky one.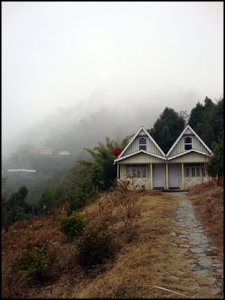 You can visit : Panchak tours and travels, 6, Madam Street,1st Floor, Kolkata- 700072. Office.:+91 336450 2916, 3022 2979. Mob.:+91 9830071017. Email.: panchaktours_travels@yahoo.com
5. For Kalimpong we checked at hotel near bus stand and you can also book at Deolo Tourist Lodge. Very nice view from here.
Best Season
March-May and August-October. Will enjoy view for K2 all round and some company of people along with you.
Note: These places wont have thinks like sightseeing and much point to see. Its Only nature, Pure Nature. Total mountain life. No adulteration. Out of Modernized world, polluted air, Noisy surround . Full 21% of O2  0% of Noise, 100% calmness. Good chance to Breathe as much as you can to your lungs. Just one word. BEAUTIFUL.
So Let's begin our journey… Lolegaon, WB : Day 1
Our trip started from Sealdah, Kolkata,. Place of Goddess KALI. Our Destination is to NJP. The best train from Kolkata to NJP is Darjeeling mail starts at 6:30 in evening and reach NJP at 8:00 AM. But as we planned at very short interval so we didn't got the reservation and we booked Testa Torsa started at 1:30 PM and reached NJP at 3:30 AM :O. It was too early for us to get any mode of transportation from there to our first destination, Lolegaon.
First Lesson got: we came in Off Season so no shared cab available and Independent cab wala asked for 2400/- We bargained and managed to 2000/- bucks.
The journey to lolegaon was of 4 hr. Whole of the way was full of dried plant (Off Season) and landslides. We crossed Testa Torsa river in the before sunlight situation so not sure about the color, ok I think it was green :). The climate was very chilled there so we have already put on our Thermo cot and Shawl. Be prepared with all your woolen. We reached lolegaon via Lava by 9:30 AM. The road from Lava to Lolegaon was hell. It was like we can walk more fast than by cab. But it was very calm when we reached WBFDC, Lolegaon.
As soon as we reached it is understood that a heater is must. Room was very chilled and bed was very moist. The Cottage caretaker given us Room heater at 50/-. Food you will find in cottage itself no other options outside. Menu of food will be available but you will get mostly Chapathi, dal, Mix Veg, Steamed Rice in Veg. Non Veg Oops don't know 😛 Must try the Tomato soup which they prepare. Yummyyy…. . We kept heater on for whole day and after that only we were able to sleep properly at night.
By that time we came to know what is meant by off season. Very few people roaming around. And that to at the bus stand only. Even in whole WBFDC only 2 cottages were occupied. Also quite chilly time and no chance of Excellent view of Kanchenjunga Range as flog was really getting foggy.
But that added a pleasant experience for us and we enjoyed the time like king of the lolegaon.
Places we saw in Lolegaon :
Sunset point : Do tracking 1.5km, enjoy the combo of jungle + mountain + height + fog.
Sunrise Point (Jhandi Dara ) : 3.5 km , have to take independent cab costing 400/-. May find wind animals on the way. Can see beautiful view to K2 in perfect season.
Canopy Walk : A hanging bridge drive you from one part of Heritage forest to another. Just enjoy the green jungle real one as u will find trees with algae and no defined path to move. My advise explore every way u see in hills, u will enjoy and may find kids playing.
We spend whole of our day in roaming to all possible way there. There is only one bus stop where there are few shops with tea at 7/- and momos at 15/- per plate(6 pieces) stall. And the only bus from here to Lava is at 12:30 PM from bus stand. Due to Winter season we were not able to see K2 as it too fog whole day. No night life enjoy in ur room. U will find only light in few cottages and twinkling stars if the sky is clear. As we reached early we got whole to wander around the nature there.
But we got bored as no clear view of K2 and very chilled to walk outside. We enjoyed the chilled night with heater and :). Then we thought what we be doing the next day as  we had 2 days booking in Lolegaon. So we planned to move to lava. The next day we contacted about half a dozen wbfdc personal and finally they checked for the cottage in lava and confirmed the space. We checked out from lolegaon, wbfdc next morning and we got ready to move to lava.
---
---