---
Day 1 : Traveling to Beijing from Shanghai, Capital Museum, Summer Palace
Day 2 : Exploring ChangLing Ming Tomb and Jade factory
Day 2 Contd…: Badaling Great Wall
---
This is our last day for the amazing three day trip. But still we feels that we some more days to explore it. We had our complimentary breakfast in hotel and started our journey at around 9:30 AM. We first took the subway to reach the TEMPLE OF HEAVEN.
We took Line 2 Guomao to Dongdan Subway. Change to Line 5 from there and reach TianTan DangMen Subway. Take Exit A1 you will see East gate Temple in front of it. Outside other subway Exit you will find Direction Board for East Gate Temple of Heaven but written in Chinese. So Remember 天坛公园 symbol means Temple Of Heaven Park.
It is bigger than Forbidden City but smaller than the Summer Palace. It is covered in area of about 2,700,000 square meters. It is build in 1420 AD. This is used by Emperor of Ming and Qing Dynasty to give sacrifices to pray for Good Harvest and Rain. One of the guide was describing that as the King consider them as SON OF HEAVEN so they can't make their palace bigger than Temple of Heaven. That is why temple is bigger than Forbidden City. It has gate from all direction (East Gate, South Gate, West Gate, North Gate). The whole temple is surrounded by double annular wall. In North we have Semi Circle wall and square in south.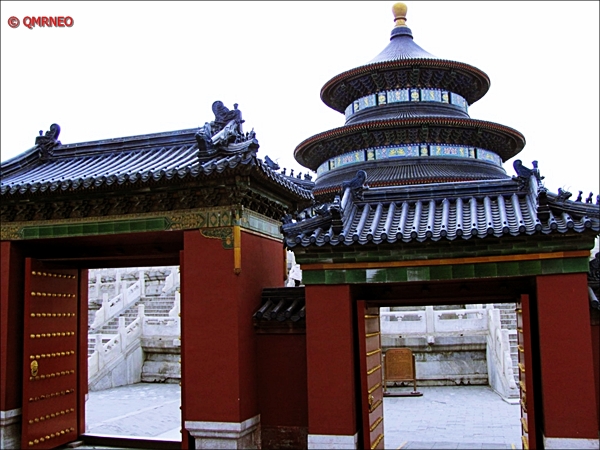 Lets have a quick look at the map of temple of heaven.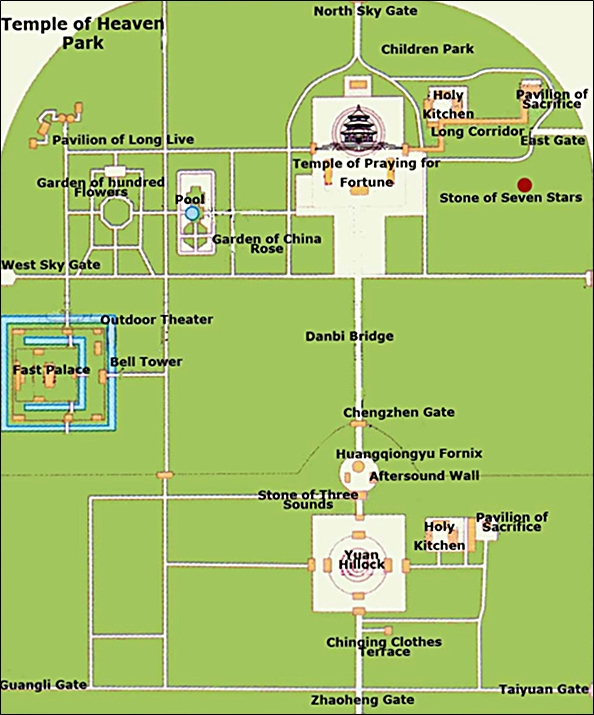 The temple is open from 6:00 – 21:00 hours. If in morning you will go you may see local people playing cards, knitting and reading newspaper in Long Corridor. They were playing a game which is like badminton but instead of racket they have to pass the cock with their legs. They were also practising Kung fu and Taiji.
From East Gate you will find Seven Meteorites , Long Kitchen > Hall of Prayer (Temple of Heaven). It is such a large temple seems like a place with great power. The structure make you feel the power for the Temple. Build on top high Platform the Temple shows that Heaven in High and Earth is Low. The design reflects the Chinese thought in ancient time that "Heaven is Round and Earth is Square".
We then headed to view the Seven Star-Stones. During the Ming Emperor Jiajing's reign, seven gigantic pacifying stones were placed to the southeast of the Great Hall of Sacrifice. These are stones with motifs of mountains engraved on them and not the meteors as the hearsay went, symbolizing the seven peaks of the Mountain Tai. After the Manchurian came to the throne in central China, in order to show the Manchurian is part of the Chinese nations, Emperor Qianlong issued as edict for another atone to be placed in the direction of the northeast, meaning the Chinese nations are a big family and the country is unified.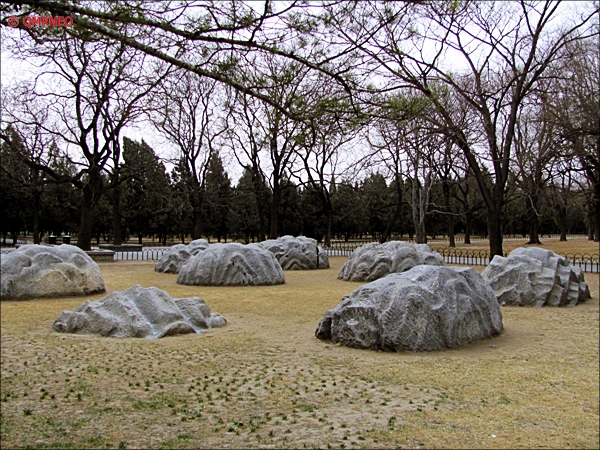 We took exit from the same East Gate and moved to Tiantan Dongmen subway to reach our next destination Forbidden City. Click the link below for Forbidden city. 🙂
---
---