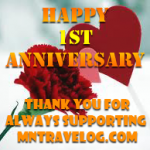 The first thing that came to our mind
"How did so many things happened in a year".
We had just completed our first anniversary of what we started as our love MNTravelog.com – quite a lot things surprised us by then. What started of as the small log of what we enjoy in our daily, now became a great passion to share and enjoy. We had definitely the times when we were just sitting and thinking about the top bloggers. And as the time passes learnt the things the hard way.